A few days ago I read a blog post about someone who had their photos stolen from their blog.  I wish I could remember where I read it, so I could post a link.  The family's Christmas photo, which she had posted on her blog, had been stolen and used in some eastern European country for a billboard!  The moral of the story:  add a watermark to your photos.
So from now on I am going to watermark all my photos that I post on my blog.  If you would like a copy of a photo without the watermark, just let me know and I will email you one. :)
With that said, let's get on with the vacation photos!
Wednesday was our 
6th Anniversary
!  And we spent it at 
Carlsbad Caverns
, in Carlsbad, New Mexico.  After our little tour at Natural Bridge Caverns, I wasn't sure what to expect, but to tell you the truth I thought that all caves were the same.  Was I ever wrong!
Carlsbad Caverns are unlike any cave I have ever been to.  They are A.MAZ.ING!  
I went a little photo crazy at Carlsbad, while we only spent 1 day there, I am breaking the photos up into 2 posts.  (That, and resizing and watermarking every photo is labor intensive.)  It's difficult to appreciate from these photos, but Carlsbad is HUGE (you descend 750 ft below ground by elevator and walk out into this gigantic cavern).  You can take self guided tours, or you can take ranger-led tours.  We did a little bit of both.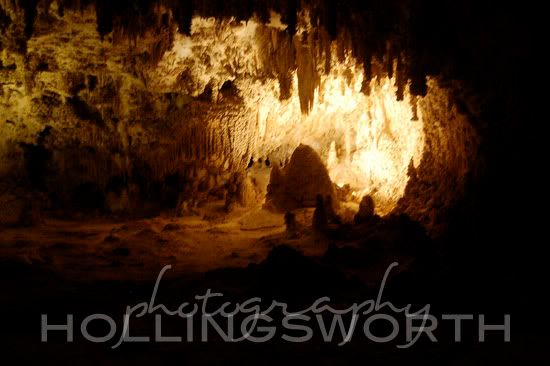 First, we took a guided tour of the "Left Hand Cavern."  This turned out to be our very favorite part of the entire trip.  Our guide was awesome!  She took us on this off-path tour and we learned a lot about the cave.  This particular tour only allows up to 15 people per day, but that day there were only 8 of us, plus the 2 guides.  It made for such an enjoyable hike!  We spent about 3 hours wandering around totally dark passages.  The only light was from our candle-lit lanterns (in theory, pretty cool; in practice, not so much.  It was hard to juggle the camera and the lantern, plus not step on anything important or stumble down an opening!).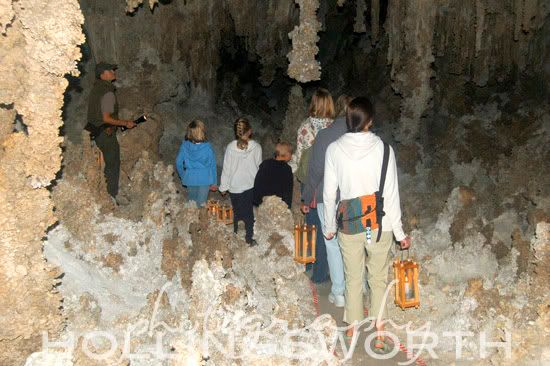 This part of the cave is purposely kept as close to natural as possible.  That's why they don't let very many people tour it.  So many of my photos came out blurry (because of the dark), but I couldn't help but post a few of my favorites.
Isn't that color just amazing?  
Unlike Natural Bridge Caverns, only about 5% of Carlsbad is actually still alive.  But we did find some little pockets of underground pools, like this one: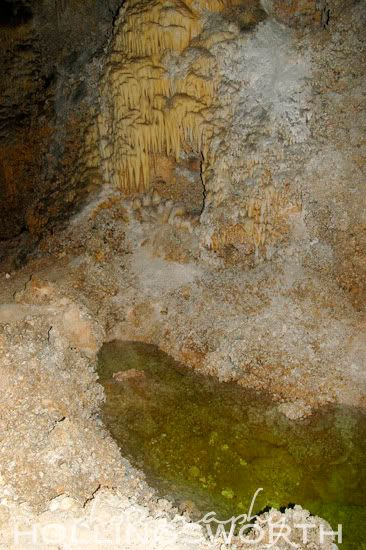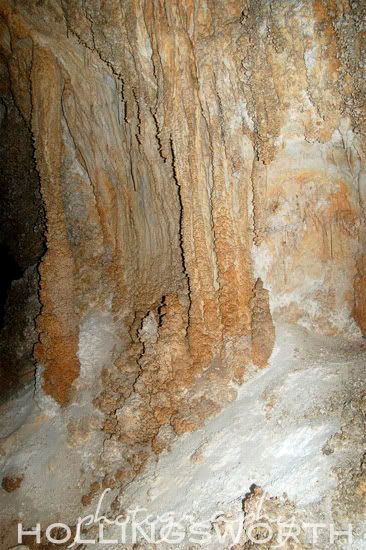 Our guides would stop us periodically to point out something particularly interesting.  Here she is showing us the "popcorn" formation. Popcorn are formed by evaporation, as opposed to water actually dripping.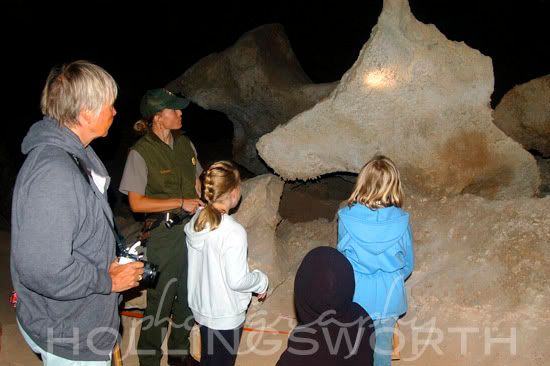 Close-up of popcorn formation, and one of my favorite shots of the day.
That's all for the Left Hand Cavern.  Tomorrow I will post more of the main Cavern. Thanks for looking!